Details

Written by

Ann Crawford

Category: Uncategorised
IASSA Celebrates 30 YEARS!
IASSA was establihed on August 23, 1990. In 2020 we are celebrating the 30th anniversary of our association. This page will serve as a hub for historical materials, memorabilia, interesting facts and congratulatory letters. Please keep checking as new items are being added!
IASSA MEMORABILIA
Ludger Müller-Wille's planner page for August 23, 1990 - the Day IASSA was established
IASSA was founded in 1990 in Fairbanks, Alaska, at a meeting held in conjunction with the 7th Inuit Studies Conference. The creation of IASSA followed the suggestion, made at the Conference on Coordination of Research in the Arctic held in Leningrad in 1988, to establish an international association to represent Arctic social scientists.
ANNIVERSARY MATERIALS
Special issue on IASSA History (2010)
Past Presidents Anniversary Letters
Interviews with Past Presidents (2017)
IASSA INTERESTING FACTS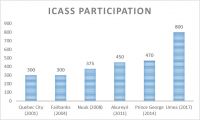 If you are interested in contributing items for this page, please email or
Details

Written by

Ann Crawford

Category: Uncategorised
Gary N. Wilson is a Professor in the Department of Political Science at the University of Northern British Columbia (UNBC) in Prince George, Canada. He also serves as the Acting Chair of the Department of First Nations Studies and the Coordinator of the Northern Studies Program at UNBC. His research examines politics and governance in the Circumpolar North with a focus on Inuit self-government in the Canadian Arctic. He is also interested in issues related to development and governance in northern British Columbia and the Canadian provincial north. Gary currently serves as the Vice President of the Association of Canadian Universities for Northern Studies (ACUNS). In 2014, he was the Co-Convener of the Eighth International Congress of Arctic Social Sciences at UNBC.
Subcategories
Contact Information
IASSA Secretariat
ARCTICenter: Arctic, Remore and Cold Territories Interdiciplinary Center
348 ITTC
1227 27th W Street
Cedar Falls, IA 50614-0406 USA
Phone: 1-319-273-3778
Fax: 1-319-273-7103